How it all began...

In 2001 we purchased a couple dairy goats to clean out the brush on our acreage After they multiplied and we had a supply of fresh goat milk, we learned how to make goat milk soap for our own use and gave some as gifts to family and friends. We soon began to get requests for more of it and soon, The Briar Patch, a very honest name for our organic farm, was born! We now market our soap in local stores and ship it to stores and individuals across our state and around the country.


Our Process
Our soaps are all produced by the time-honored cold-process method. Food grade vegetable oils are combined with sodium hydroxide and goat milk and allowed to go through a process called saponification when the mixture heats up, thickens, and cools down, hardening over a period of 24 hours. It is hand cut into generous bars and allowed to air dry for several weeks before being wrapped and ready for use. Our simple packaging encourages you to use the soap, not merely admire it!


Why is our soap the better choice?

In an era of commercial industry and cheaper products it is necessary for you to understand why this is the better choice for your hard-earned dollar and the health of your skin. During the soap-making process a substance called glycerin is formed. Glycerin is very moisturizing and thus it is valuable as a skin care product. Commercial soap makers skim it from their soap and market it as a by-product. In addition, synthetic chemicals, fillers, and preservatives are added. This leaves a drying, chemically produced soap. By contrast, all of our handcrafted soaps still contain glycerin for the benefit of your skin. Our vegetable oils are carefully selected for the qualities they contribute to the soap...lather, moisturizing, hard bar, mildness. Our soaps contain no artificial preservatives or colorants and are made in small batches at home so we can maintain a high quality soap for your use. Commercial soaps may be cheaper to buy but do not really represent a good value for your hard-earned dollar.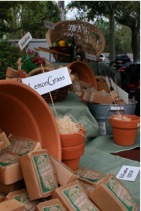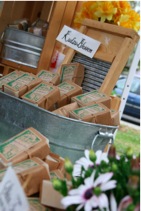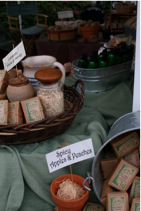 Where you can find us

We set up a booth at the Fairhope Art Festival in Fairhope, AL in March; the Canton Flea Market in Canton, MS in May and October; the Pecan Festival in Richton, MS in September; and the Peter Anderson Art Festival in Ocean Springs, MS in November. Come by and visit our garden-inspired booth and enjoy the fragrances of our hand-crafted soaps!




Feel free to contact us with any questions or comments you may have regarding our products! If you would like to give us a testimonial about your use of our products to be included on this website or a brochure, please write to us and let us know! We love to hear how our customers benefit from using natural soap!

Frank and Roxie Porter
PO Box 42
Ellisville, MS 39437

601-422-3696
briarpatchsoap@yahoo.com